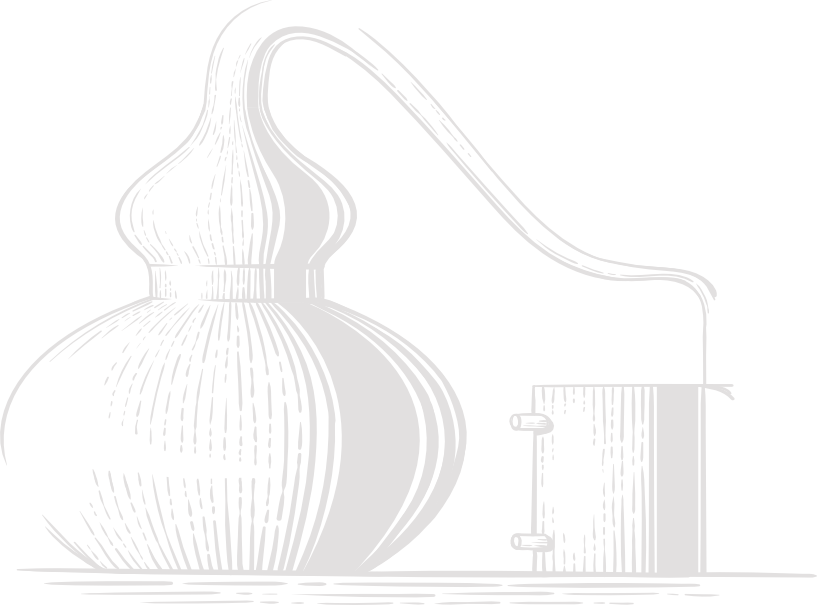 MOONSHINE IN BARBADOS
Once Raymond got the idea to make a vodka from our sweet potato experiment, he turned to his friends for help and quickly found a home to start working on the ideas. A little space was carved out on a friend's family farm and the potatoes there designated for Vodka - Indeed, this space remains in use today as the farmer has been growing sweet potatoes for over 35 years, resulting in a highly consistent product across the seasons. Taking inspiration from the original 'moonshiners' who made Barbados the home of Rum we had to throw together (or to use Bajan vernacular, 'collifox') our own still.

Then the experimenting with our mash and the fermenting process began. Once we had our first batch under our belt we needed to get some independent feedback on the vodka.

We ran some comprehensive Saturday afternoon 'research' sessions. Now this group of friends will tell you that these required tremendous sacrifice as they took on the task of tasting and re-tasting the vodka, interspersed with our local Pudding and Souse delicacy.

With the feedback and encouragement of friends and local 'experts' the product started to come together.

Now we needed to come up with a name. 


A Bajan definition for A bajan vodka
Be careful when you taste Katspraddle as you run the risk of falling hard in love with this Bajan vodka.
When Raymond was looking for a name for the new vodka, he reached for his sense of fun and his Bajan roots. In Barbados if someone falls hard for something they have been Katspraddled.
Be careful when you taste Katspraddle as you run the risk of falling hard in love with this Bajan vodka.

Remember to enjoy it responsibly cause if it you don't it may Katspraddle in whole different way.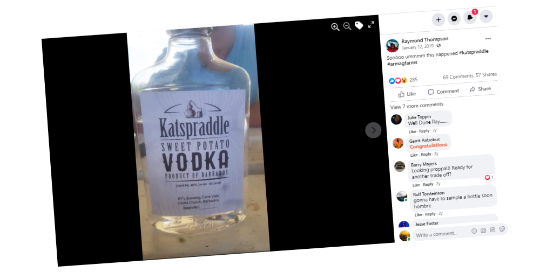 KATSPRADDLE DEBUTS ON FACEBOOK
The first time Katspraddle debuted on the 'world stage' - January 12 2019.

We did not have real labels or anything officially in place, just some awesome vodka and a draft idea for a label that one of our friends had created for us. At the end of another Saturday research session, rather than wait around for things to be perfect, Raymond got some glue and pasted the draft label design onto a Flask and then snapped a shot and threw it up on Facebook.

That post went viral and caused his phone to blow up with calls and orders and with that Katspraddle Vodka was born!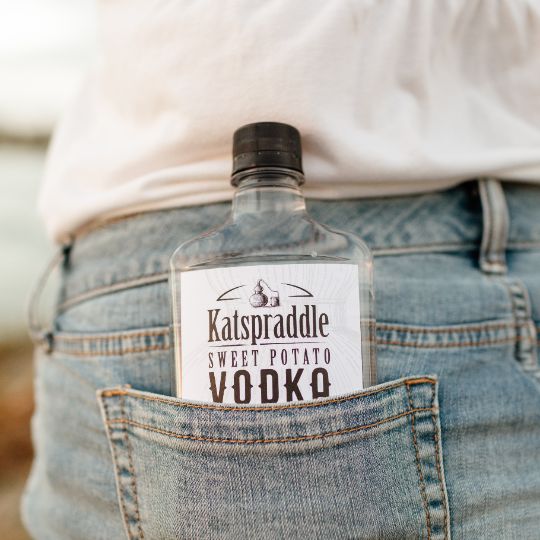 STAY TUNED AS WE CONTINUE TO WRITE OUR STORY.